You can follow us on twitter: @jmshiveley and @GrimalkinPress for art, comics and general all around chicanery
PASS IT ON
Hey followers of WHERE THEY DRAW!
We hope you guys have been enjoying the studio tours that we have been both documenting ourselves and gathering from submissions. We've had a hell of a fun time seeing the studios. We've tried really hard to not taint the theme of this tumblr. with extraneous links and posts. HOWEVER, the other day we read a comic project that blew our socks off and we just KNEW that our audience would like to check it out. Kevin Cannon of Far Arden fame and Zander Cannon (Replacement Gods, Top Ten) have put together what we think is the first truly unique use of the digital comics format. Don't get us wrong there is nothing we love more than being up to our elbows in actual ink and paper printing mini comics and silk screening dust jackets, but we think the Cannon boys are onto something. The project is DOUBLE BARREL 122 page monthly ADVENTURE COMIC digest that will be serializing Kevin's new high arctic seafaring graphic novel CRATER XV which is the sequel to FAR ARDEN and Zander's rousing yet introspective journey to the netherworlds in HECK. The 122 page issues are available monthly from Comixology  and Top Shelf Comics for a scant $1.99 which is RIDICULOUSLY cheap…but I'm not going to argue. Go check it out now if ya feel so inclined. We did.
Colleen McKeown is one half of We Ain't Friends and a Toronto illustrator. You can find her at aintfriends.com and colleenmckeown.com.
Lately I have been getting lots of submissions that I would love to feature on this site. Unfortunately they have all been with corrupted image files or missing the images completely. So please, I want to show your studio space but take the time to make sure your image files are good and uploading correctly.
This is my current, temporary drawing space. Working here means that my family have no place to sit and eat but that's a sacrifice I'm willing to make. It's an absolute mess. I could kid myself and say that one day I'll have a neat and organised studio, but it's never gonna happen. That's not the way I work. It is clean though, strictly no food stuffs here.
The space in divided into two distinct zones "wasting time zone" and "drawing zone" Much as my computer is necessary for my art, I kind of wish it wasn't in the same room I draw it, because it's oh so distracting. Although the room looks a state, that's mostly piles of notes. My brushes, ink and nib pens are always easy to find. But I do seem to lose pencils.
My drawing tools are as follows: G-Nib pen, Winsor & Newton Indian ink, Rosemary and Co 
Kolinsky Sable brushes, Arches HP paper, Epson scanners, Tombow eraser
, 2H pencil, Apple computer, Wacom intous3, DIY lightbox, Canon G11 camera, notebooks, cheap copier paper, kitchen paper, scrap of old t-shirt.
I've been in this space for almost a year now and it's the best place in the world. When we moved into this apartment I was all like "no way this room stays PURPLE" but now I'm way into it so whatever. I just got rid of my old drafting table in favor of this desk and a drawing board that I can lean against the front of it.
I mostly work on bristol board with Faber Castel Pitt pens, Microns, Hunts Crowquill 702, and a couple Winsor Newton Series 7 brushes. I'm also into watercolor and gouache and I do a lot of digital stuff. But good ol' pen & ink is where it's AT.
Computer station stuff. There's a Wacom tablet stuffed in this desk too, that thing is the jam.
Drawers full of pens/pencils/brushes/inks/gouaches/trash
Storage for drawing portfolios and books and stuff.
comixxxxx
old sketchbooks: 1 part interesting + 2 parts embarrassing = still totally valuable practice and experience
moar comixxxxx I think I drew those logos when I was like 9
toys are important. Also make sure your friends bring you scorpion booze from far off lands
Thanks for visiting! Check out my main Tumblr here if you want:
Peace, dudes!
For the first time, I have a room all to myself to call my studio.  It is in my apartment across from my bedroom.  I say "all to myself" as no other artists are working in this room, but I do share the room with two little distractions muses.  Please excuse the small bits of hay everywhere!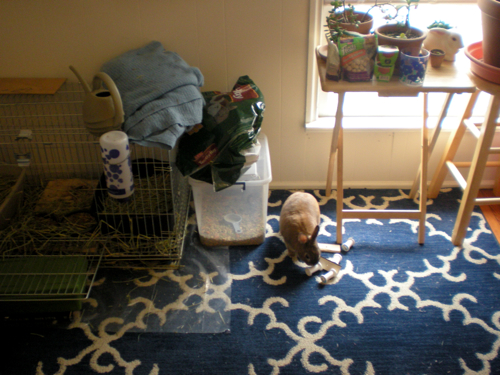 I tried to clean up a little for these photos, but according to the rabbit code, sight of a broom requires immediate tossing of timothy toward the nearest floor.  Recently my work has been dominated by quilting, therefore my studio is predominately the "sewing station."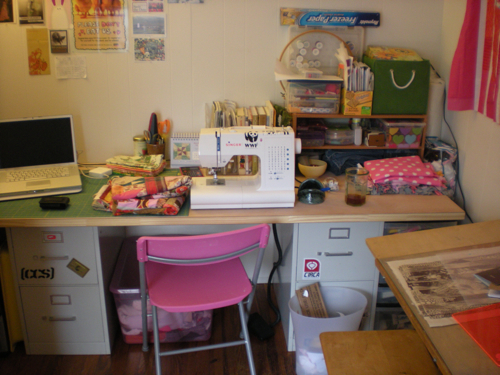 This table setup is popular within my immediate family:  Two file cabinets topped with a 30" x 80" hollow interior door— instant desk.  Organization is not one of my strong points, though I think the lack of storage solutions is part of the problem.   I also can't determine a good spot for my iron, so this is where I iron …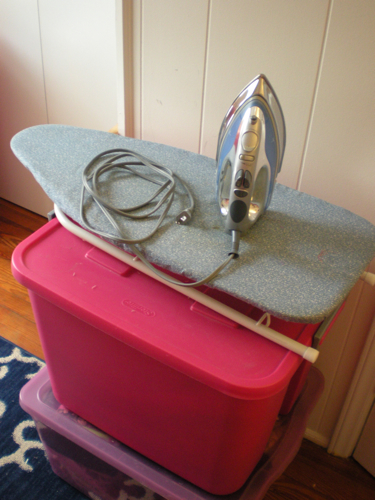 The arrangement is such that the iron cannot be plugged in without closing the door and the cord passing in front of the closed door.  This is probably some sort of safety hazard, but so far I'm just pretending it's my little way of living life on the edge.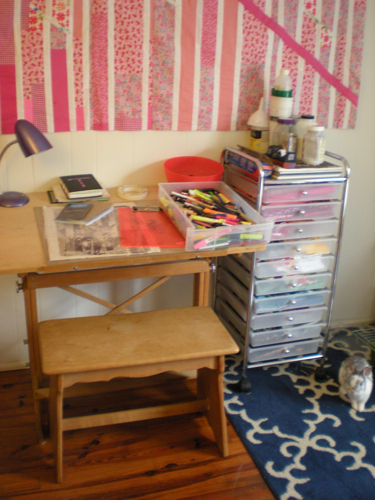 And finally, the drawing area.  The drafting table belonged to my father when he was in college, and it's pretty awesome.  The bench doesn't technically go with it, but to me they almost look like a matching set.  At first I wasn't sure I would like the bench to sit on while drawing, but it's actually nicer than the pink folding chair at the sewing machine.  I have a lot of pens, which is why I am not allowed in an office supply store for the next decade or so.
When a married homeowner finds himself in dutch with the wife, and agrees to couch-surf to provide that all-hallowed "space" that partners in relationships ask for, it can be a sad thing to be a roving cartoonist, adrift from the studio at home, hoofing it in the cold Lexington, Kentucky winter.  I don't have any pictures of the original studio in my home, oddly.  But we start with the first actual table, in my now hobo lifestyle, that was, at least, semi-permanent, in which I was apartment and dog sitting for a friend who graciously provided for me a table to use for the two weeks I was there.  I am using my preferred bristol 2 ply plate finish Strathmore 500 series.  Somehow stars and gravity were aligned so that I could balance my trusty Koh-I-Noor .35 rapidograph upright on the surface of the table (not sure I've ever managed that before or since).  I'm working on "The Organ-Grinder," "Wakefulness," and "Creekwater" here.  That is an Elmer Batters book propped open for photo reference.
Fast forward perhaps a month or two, and the only actual visitor I had in the apartment that housed the previous table, was a woman who was kind enough to allow me to have a table in her space (this may be giving away that things didn't work out with the aforementioned wife).  The rapidograph and Strathmore bristol make an appearance again, along with my ubiquitous Moleskine sketchbook.  I can see that I am working on an illustration project that was in the end scrapped, a page of "Creekwater," and I have an issue of "Master of Kung-Fu" of which I was copying the cover.
What was more common than having a set space to use for a few days or for a few weeks was for me to stumble into my local coffee shop and use a table there, before or after or on days off from work (I became a serious regular).  I once cultivated disdain for people drawing in public, like coffee shops, always remarking in my mind, "Why don't these exhibitionists work in a studio like a real artist?" But like Richard Gere in "An Officer and a Gentleman," I had no place else to go.  Photographer/artist Louis Bickett caught me in the act.  Chase Martin even filed a report on me from this period:
http://www.institute193.org/blog/?p=550
Past the hobo winter, we now arrive at the following summer.  This table was in a camper that I shared for a few weeks with my dear mother, who had a teaching gig at a summer program (the camper was in Berea, KY in close proximity to said gig).  I would use the table in the kitchen of the camper during the day while she was teaching.  We have a reveal of the wite-out I always keep close at hand in addition to my motley crew of nibs that include a Hunt 102, several Gillott, and Tachikawa.  That's Speedball brand india ink.  One can see here that I'm working on my contributions to Tom Neely's "Bound & Gagged" anthology (along with a B. Kliban collection I was using for reference for one of my gags), as well as my collaboration with writer, Nick Tosches, "Spud Crazy."  In the previous three images, I was holding down a job.  By the summer of this photo, I had, on top of everything else, lost my job due to an arthritic condition and had to, for the first time since I was eighteen, live with my parents in rural, eastern Kentucky.  Happy days.
Broken marriage, broken home, and broken nibs, this reporter decided after all the trials and tribulations in his home state to, once securing disabled status, split from the whole program and move to White River Junction, VT.  First permanent place of my own in about two years, reunited with my actual drawing table, which I keep flat instead of at an angle.  Here I am working on "THISEATSITSELF," a story from the forthcoming, "J.T. Dockery's Despair, Vol. 1."
Speaking of, I'm also reunited with some of my oversize and otherwise books.  I like to keep plenty of tomes at hand for reference, such as dictionaries of symbols, and the always useful, for me, "Big Book of Legs."
From the arrowhead I found when I was a kid in Kentucky dirt to the Oxford edition of the King James Bible my uncle gave me on the flat drawing, to the various things I like to hang on the walls, back to the window, I'm an advocate of keeping the mojo proper around me.  Hanging on the wall: Gary Panter original art, old Strand theatre advertisement for "Nightmare Alley," advertisement for Mitchum in "Where Danger Lives" from a vintage magazine, 78rpm Vogue picture discs, personally inscribed photo of Wanda Jackson, first edition of the paperback original of Jim Thompson's "Nothing Man," and a couple Belgian versions of American film noirs.
Another angle on the drawing table.  That's an image from an old "Adam" magazine girly calendar behind me.
More mojo:  8 by 10 of Lenny Bruce on the phone, a personal letter from Hasil Adkins, another vintage calendar girl, paperbacks including Paul Webb's "Mountain Boys," Cornell Woolrich, Fredric Brown, William Linday Gresham's biography of Houdini, a sci-fi magazine with a Philip K. Dick story, as well as a Bernie Wrightson "Swamp Thing," and a Jack Kirby "2001" hanging on the wall, etc.
Here we find the reporter in the present tense, on an extended stay in KY to take care of  some business on the homefront, again with a temporary studio but without woe or despair.  That's an Isabey Kolinsky brush, size 3, as I've been more recently attempting to train myself to ink with a brush, a bottle of Winsor & Newton india ink which I am partial to more than Speedball, and I'm working on pages for Mark Rudolph's anthology of Mercyful Fate songs turned into comics.  It is not really "Hell," as I look out the window and see horses beyond my table.
All's well that ends well, folks.  Currently working from Kentucky, I will return to my drawing table in my apartment in Vermont.  The next step will be to own my home again, sans wife, with built in bookshelves!  Stay tuned to this channel for further developments.
Anonymous asked: Why have I not seen this blog before?! :O
Catatonia? ;)
I don't have pictures of the two places I worked the most. For two years I was a guard at the Baltimore Museum of Art and during lulls drew on index cards with pens. Last year I lived in Tucson and in a small guest house completed a comic book about a standup comedian. I worked in the kitchen on a large desk from Goodwill. I left it when I moved.
Before heading west I worked on a cheap but sturdy wooden table. There I drew a comic for the City Paper. Usually the table was covered in paperwork so I did most actual drawing standing up at the BMA. 
Out west I lived in a tiny house for two months before moving into the guest house. In the first house the bedroom had only an air mattress and a folding chair and the kitchen table was a crate so I worked on the floor. I used Winsor & Newton brushes, two 24-color Pelikan opaque paint boxes and Canson watercolor paper. I don't remember how I got the brushes. One of the paint boxes I bought in Sarasota. 
I'm not too particular about materials. This can lead to unnecessary obstacles. The comedian book is in three sections and each was made with different paper and media. For one section I used crayons from the University of Arizona bookstore. Later I spent a week finding clear plastic sleeves to slip finished pages into so I could scan and store them without smearing the wax. I had to cut off the hole-punched margin on each so I could fit the sleeves on my scanner. 
In Baltimore I'm working on comics that'll be easier to format for printing. I live in a studio apartment and have two workspaces. Both are tables cobbled together from Ikea parts. The cluttered one is where I'm working on ideas for a new book. The clean one with bananas and a boombox is the kitchen table. There I worked on a comic for Smoke Signal and a comic for a marriage equality anthology called Little Heart. For both I used just the black from the Sarasota Pelikan box and a pencil. I think a Papermate. 
This week I'm going through work. On that cheap but sturdy wooden table I made some watercolors on cardboard while still living with my folks. The first few I made on a big styrofoam block on the floor but soon got the table. The cardboard was from a stockroom where I'd worked. The paints were those same damn Pelikans. 
I'm not good at setting up a solid work environment. I don't think it's all that important. I remember reading once that James Joyce would sit on his bed and write on a sheet of paper on a suitcase on his lap. That seems like enough. 
Thanks for reading! See some more work HERE.